Kids are Awesome: Self-Advocacy Gone Awry
One of my power words of the year is SELF-ADVOCACY. Teaching children to ask for what they want and need to make their lives easier. Of course, when dealing with the awesomeness of children, it doesn't always quite work as we expect. 🙂 One of my Facebook friends posted this about her child and I laughed hysterically. I screen-shot the status.
So my middle was annoying me and I kissed the top of his head, admittedly to encourage him to be on his merry way and stop blocking my Facebook, but instead he told me he needed another kiss. So I gladly kissed his curly head again and off he went. So I called after him, "I like it when you tell me what you needddddd…" To which he smiled and replied, "I need a rocket launcher and a car and a bazooka and machine gun and a rope…" That wasn't what I meant.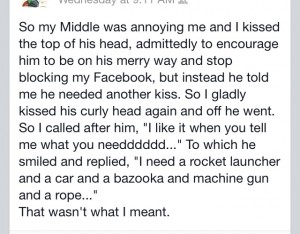 Jan 04, 2014 | Category:
Occupational Therapy
| Comments: none | Tags:
awesome
,
awesomeness
,
awry
,
children
,
funny
,
kids
,
power words
,
self-advocacy
,
silly
,
unique
---
---