The Hidden Poignancy of the MMSE – When clients write a sentence.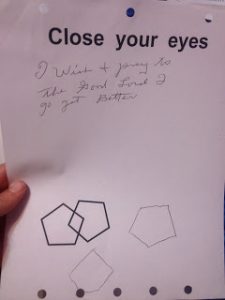 The MMSE or Mini Mental State Exam is a 30-question exam that asks very basic questions and is designed to screen for cognitive impairment. I did a lot of them while I was doing a 3 month fieldwork as a Level II OT Student in a geriatric psychiatric ward in Tennessee back in 2009.
What I recall most about this exam is the poignancy of the responses when I would ask some of these clients to write me a sentence, any sentence they wanted. I wish now I had saved more of them. Some wrote things like "You are so pretty."
Or "When will I get better?"
or "I want to leave."
or simply writing down what I had said: "Write a sentence."
One euphoric lady's sentence was: "I am a very happy person and I love everyone."
For one lady who talked/processed sooooo slowly, she reminded me of Alice in Wonderland, using circular answers such as: "That is the answer to which the answer is asked." She could not remember the state she was in at all, or county, or town. She scored in moderate dementia range. Her written sentence was: "Please understand." It gave me chills. 
This particular lady (image) wrote "I wish and pray to the Good Lord I go get better" I seem to recall quite a few writing to the Lord to get better. It was always the sentence they wrote that was the most revealing to me as to their inner thoughts. Sometimes it made me smile, sometimes want to cry.
http://en.wikipedia.org/wiki/Mini%E2%80%93mental_state_examination
---
---