Toca Boca Apps: Kitchen Monsters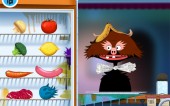 This is a fan-post of Toca Boca Apps, specifically their Kitchen Monsters which I occasionally utilize on my iPad with my kids in occupational therapy sessions.
There is (so far) only one app company I truly admire, respect, and enjoy. I'm not a fan of screen-time in general, with the exception of the children who truly benefit/need them to learn, but Toca Boca has won my heart.
I love them. Their kitchen monsters, hair salon, and robots app are my favorites for my children in occupational therapy. I usually use them as an occasional reward activity, although with any luck they will soon do some monster versions utilizing playful letters and numbers so I can use them in a more educational way at times. 🙂
Their kitchen monster one is my personal favorite (Hair Salon is a close second) about feeding these silly monsters. You have a refrigerator filled with food such as meat and brocolli, and you can saute, boil, microwave, chop, blend, whatever you want, to feed the hungry monsters. The monsters like some foods more than others, and may refuse to eat what you make, or even spit it out. It's so silly and even my children with difficulties with mental flexibility laugh at this game. They LOVE when the monster spits their food out, or occasionally get their feelings (mildly) hurt if they made the monster a masterpiece.
The majority of my children will happily feed the kitchen monsters a single item that they cooked in some manner, such as a chopped up carrot. I have a few budding chefs, however.
One is a 4th grade boy (mother gave me explicit permission to post this) that makes his monster a full-course meal. He'll saute some meat, boil and season some carrots, find a few other vegetables or items to prepare/cook to make a well-rounded and healthy meal, and then happily feeds the monster his 5-star masterpiece. It takes him quite a while to make the single meal, and he gets very involved in making sure it is delicious. It's so awesome. I love the care he takes with these kitchen monsters, and his great grasp of cooking as well.
Another budding chef wants to make sure the monster gets to eat a little of every single food available to taste its deliciousness. He put some meat in the processor (if he had processed it just a little it would be ground meat) but processed it to the point that it was liquid, and called it a "meat smoothie" Yum. At the end he was proud he had "made a little feast for the monsters".
Looove children and their innocent creativity.
Thanks Toca Boca, for amazing apps. I recommend checking all of their apps out and especially Kitchen Monsters and Hair Salon. They are available for iphone and ipad. I love their characters and their absurdity, which is something many of my OT kids need to work on. Although my budding chefs clearly have a lot of creativity!
Another story about my budding chefs who likes to make full-course five star meals,  posted with his mom's explicit and verbal permission.
.
.
.
.
---
---