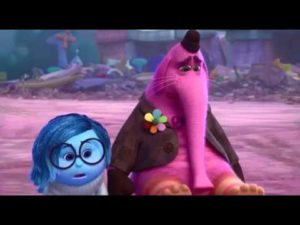 I haven't posted about OT in a loong time here! But this situation arose the other day and it got me reflecting.
My friend and I were leaving a restaurant.
A white-haired woman was slowly headed towards the sidewalk in front of the restaurant. She had the panicked look of someone who is scared of falling. Another lady was holding her hand, helping steady her as they walked. A white-haired man waited at the curb for them.
As the unsteady woman reached the curb, requiring her to step up, she hesitated.
The man at the curb said to her, neutrally but with slight impatience: "It's not a mountain."
As I walked past, I chimed in: "It FEELS like a mountain."
The woman instantly cried out, "YES! THANK YOU!" in a relieved tone. She felt validated/seen.
I am about to start teaching psychosocial OT/mental health to incoming Occupational Therapy Assistant (OTA) students, for the third time now, and one thing we circle back to again and again is validation of feelings of their clients.
Yes, maybe a curb is not a mountain, maybe other people have it worse, blah blah blah. But people crave validation. Especially people in pain or fear. It doesn't mean we are agreeing with them. It just means we hear them, see them. Often, once a person feels validated, they're then more willing to hear alternative points of view, or to move on.
The day I first introduce validation as an important component of therapeutic use of self with clients, I have them watch this brief clip from the incredible animated movie "Inside Out."
In this sweet, sad clip, we quickly see the outcomes of invalidating versus validating feelings. Even children can understand the concept once it's discussed using that clip as an example.
I love the concept of "therapeutic use of self" and address it in a blog post here as well: https://missawesomeness.com/therapeutic-use-of-self-in-ot
---
My first children's picture book is finally out on Amazon as of mid-June 2018! The Centipede Who Couldn't Tie His Shoes. 
So far it's only on Amazon, but hopefully soon you'll be able to find it in libraries and some local San Diego stores. I'm also aiming to get it in some therapy catalogs and online therapy stores. If you are interested in having a local (to you) bookstore or library carry it, please contact me on gmail (it's just my name, karen.dobyns) and I'll e-mail you the PDF of what's called a "sell sheet," which has information the store would need in order to look into it. 🙂
It's unbelievable how much work goes into creating a book in terms of technical details, and now it's time to focus on marketing. I had noooo idea there was so many pieces to it, but I'm learning, and it's a fun journey. I'm hoping to inspire more OT practitioners to write and/or illustrate!
I'm just starting to get Amazon reviews – I'd love you forever if you write one, and feel free to have some actual criticism in there, I know the book is not perfect! It's actually good to have some 4-star or even occasional (gasp) 3-star reviews, that's more realistic than everyone saying it deserves 5-stars.
Right now Dr. Anne Zachry is hosting a book giveaway on her blog, Pediatric OT Tips, if you want to check that out. 
And Tonya of Therapy Fun Zone just wrote a review on my book as well, as well as directions for an adorable jellyfish craft that uses shoe-tying skills with two different colors.
---
Wow, I haven't updated my blog in over a year! Yikes! How horrible is that! The end of 2016 and most of 2017 were pretty challenging but I think I'm ready to start blogging again/cleaning up and updating my website.
For now I am just excited to say my first children's book is coming out soon. Click the "books" tab above or go here for some information – more to come soon. https://missawesomeness.com/books/
---
---