Hire This 4th Grader to Help You Fire Your Mother
Background: John is very angry with his mom about a big decision that was upsetting to him.
Mother reports: "John asked me into his room, shut the door, sat me down at his Lego table and told me he had to "let me go". He handed me an envelope with some peppermints and bandaids. Compensation, I believe. This week he gave me and Shane (ed note: father) some progress charts. He said we could skip the meetings."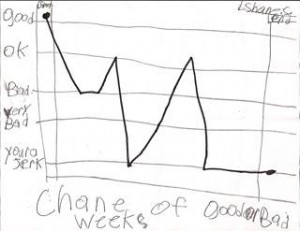 Notice the chart that shows levels of behavior:
"Good"
"Ok"
"Bad"
"Very Bad"
Unfortunately, according to the charts, his father got to the "You're a Jerk" level several times. Mom luckily fared better, especially considering this was after she had been fired.
Update: Mom reports that the chart has been modified with a new level below "You're a Jerk". It's "Get Out Now". Apparently she "fell into that zone" last week. Oh no!
The story: I had this awesome child on my occupational therapy caseload (sadly not anymore). I know FOR SURE without ANY doubt that this is a child that will eventually be famous for his amazing creativity, whether its via writing, drawing, acting, film, or who knows.
His mom is hysterical (the apple doesn't fall far from the tree…) and she shared these stories with me, which I can share with you all on my blog, details and names and all, with her explicit verbal and written permission.
I changed child's name to John (he's in fourth grade), and parents are father "Shane" and mother "Coco" since they are listed on the charts below, quite shamefully, hahaha.
I absolutely love his solemn termination of his mother for her clearly poor decisions, and his compensation package to her of peppermint and bandaids. That was quite generous. Mom points out it was well thought out, as peppermints and bandaids would help soothe the pain in different ways.
I think handing them progress notes and allowing them to "skip the meetings" to discuss them was brilliant and very executive/HR of him. His charting was great too, he clearly has a good grasp of how they work. I'm so impressed and amused. This is one of the many reasons why I love my OT kids.
Note: If you were linked here via Toca Boca, it is because I was originally in contact with Toca Boca Apps for several reasons. One of which was to tell them about John and his love for their Kitchen Monsters: 
http://wp.me/p4btZq-140
Jan 07, 2014 | Category:
Occupational Therapy
| Comments: 2 | Tags:
chart
,
compensation package
,
dad
,
executive
,
fire
,
firing
,
fun
,
jerk
,
mom
,
mother
,
occupational therapists
,
Occupational Therapy
,
OT
,
silly
,
strategy
,
student
,
terminate
,
therapeutic
---
---