jerk
Background: John is very angry with his mom about a big decision that was upsetting to him.
Mother reports: "John asked me into his room, shut the door, sat me down at his Lego table and told me he had to "let me go". He handed me an envelope with some peppermints and bandaids. Compensation, I believe. This week he gave me and Shane (ed note: father) some progress charts. He said we could skip the meetings."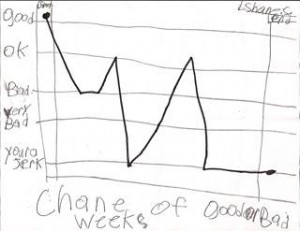 Notice the chart that shows levels of behavior:
"Good"
"Ok"
"Bad"
"Very Bad"
Unfortunately, according to the charts, his father got to the "You're a Jerk" level several times. Mom luckily fared better, especially considering this was after she had been fired.
Update: Mom reports that the chart has been modified with a new level below "You're a Jerk". It's "Get Out Now". Apparently she "fell into that zone" last week. Oh no!
Category:
Occupational Therapy
| Comments: 2 | Tags:
chart
,
compensation package
,
dad
,
executive
,
fire
,
firing
,
fun
,
jerk
,
mom
,
mother
,
occupational therapists
,
Occupational Therapy
,
OT
,
silly
,
strategy
,
student
,
terminate
,
therapeutic
---
---