Nothing is impossible, the word itself says 'I'm possible'!" – Audrey Hepburn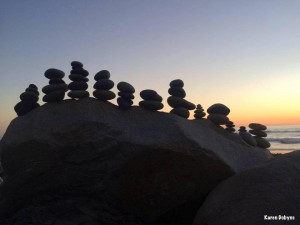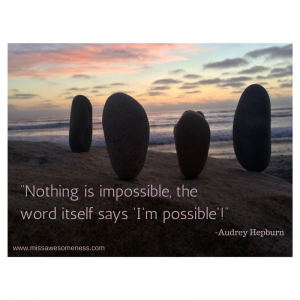 Don't you think that's a great quote for OT? I'm not saying someone with a cervical spinal cord injury should be walking, just that there are always possibilities, some of which we don't even even know we don't know. Occupational therapists are often blessed with knowledge that allows them to shed light on new possibilities for those facing the seemingly impossible. One of the most beautiful parts of our job. Watching faces light up with new understanding, new awareness, a sense of possibility, a sense of hope. A sense of future.
It's April, and it's OT Month. A month were we celebrate the possibilities and our role as OTs in their illumination.
Lately I haven't been blogging quite as much, I've been posting a lot on Twitter over at https://twitter.com/msawesomenessOT and on Facebook at https://www.facebook.com/missawesomenessdotcom
You can also see them on my blog sidebar.
Speaking of impossibles, I've been doing a lot of rock artwork lately, and I've gone from stacking flat rocks (the cairns) to working on vertical rock balancing. I balanced these rocks – they're actually only a few inches tall – on bigger rocks over at Torrey Pines State Beach in La Jolla, CA. I'm proud of it! Very challenging yet calming, meditative. Helps my swirling mind feel at peace. I never, ever would have thought it was something I could do!
---
Many people get degrees (history, art, religion, technology) then have NO idea what to do after graduation…it doesn't necessarily feed into any one profession. They have so many possibilities, but first they have to figure out what to do next.
In occupational therapy (OT) or occupational therapy assistant (OTA) school, you know you will become an occupational therapy practitioner afterwards. It's a "confined diversity" in that you aren't going to sit around wondering, gee, what will I become when I graduate? That's a great thing about clinical degrees.
And yet then your possibilities become remarkably diverse, once you're an occupational therapy practitioner. You can work with newborns or those at the end of their life or anywhere in between. You can work with people who are completely healthy. You can work with people with physical challenges or mental health challenges, either congenital or acquired. There's just no limit to what you can do. That's what I love about OT. It let me go into a specific profession without any wondering, yet then opened up the skies so that I could do anything. 🙂
Just thinking out loud!
---
I created this scenario to explain how, for example, assessing "Mary's" ability to get ready in the morning (her "occupational performance") can tell me a lot about her likely performance in making a simple meal.
(A modification of this would be great to use with OT/OTA students in the classroom or on fieldwork. Sharing how Mary does in her morning routine, then asking them to predict what she would be like in the kitchen.)
Mary is a 75-year-old woman who wants to be able to independently make a simple meal, while using hip precautions, her walker, and energy conservation techniques. She is currently in inpatient rehab. If we [OTs] work with her during her morning routine , even if we haven't seen her in the kitchen yet, we will learn valuable information to predict how she would do in the kitchen. We may see she is forgetting to use- or doesn't understand- her hip precautions. We may see that she is inefficient in her method, walking back and forth across the bathroom to get one item at a time. That she sequences tasks incorrectly, putting on makeup then realizing she hasn't washed her face. That she is unsafe, with seemingly no awareness of fall hazards or an ability to remember to turn off her curling iron. All of these components will demonstrate to the OT that she may not be ready to safely make a meal by herself that involves anything that needs to be turned off, and that she may need items grouped together for efficiency reasons, such as keeping the peanut butter, jelly, bread, and a butter knife all in one area. She may also benefit from a written or visual list of instructions. We haven't even seen her in the kitchen yet, but by watching her in the bathroom, we already have information that will guide our intervention and possibly fill in some of the blanks on an assessment tool. There are many safety similarities between getting ready in the morning and making a meal, as it pertains to slippery surfaces, heated objects, sequencing, underlying skill deficits both physically and cognitively, etc.
*I'm using more laymen terms here for easier understanding, but in medical documentation I would use more professional terminology
*Born out of a discussion in one of my post-professional OTD classes, involving assessment of various occupational performance areas.
(Prediction of occupational performance in varying activities of daily life (ADLs)
---
---